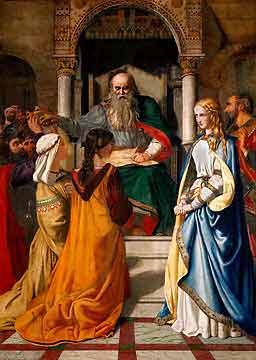 Morning, 3rd-year class!
Time for you to start reading "King Lear", by William Shakespeare (the third play in your book). Before you get started, look at these words from the play:
From today, I will not be your father. You will be a stranger to me and to my heart.



Also, look at the pictures on pp. 49, 51 and 54 of your book.
Post a comment:
What problems might King Lear have
with his family, his friends and his enemies?
Now read PART I in your book (pp. 49 to 55) and complete exercises 6.1 to 6.3 on pp. 56 and 57 (we'll check them in class, on August 6th).
Happy reading!
Gladys
NOTE:
The canvas you can see reproduced here was painted by the British artist
John Rogers Herbert (1810-1890). Visit this page to be able to appreciate details of the painting.